About Ari's Drywall Spraying
Ari's Drywall Spraying, Inc has been serving the Central Florida construction industry for over 5 years.
We specialize in Residential, Commericial, and Remodel Drywall Texture.
We are owned by Ari Stone and operated by Sean Albury.
Hello, I am Ari Stone, Owner of Ari's Drywall Spraying, Inc. I was born in Baltimore, Md where I lived for two years and then moved to Gulfport, Mississippi where i attended kinderlearn kindergarten and Bayou View Elemantary school until i was 7. I moved to Longwood, Fl and I have lived in the Central Florida/ Longwood Area since June 20, 1984. I attended Wekiva and Forest City Elementary School, Teague Middle School, and Lake Brantley High School c/o 1995. I have an A.A. degree from Seminole Community College (now Seminole State College). My interests include playing guitar and writing songs as well as building model rockets and playing with model trains. I have an enourmous amount of Star Wars action figures that have been collected throughout the years as well. I started my company in 2005 at the advice of my last employer who told me i should go out and buy a truck and sprayrig. That is exactly what i did and here we are today. I have sprayed many houses and commercial buildings in my 11 years of being in the drywall business. I would like to welcome you to my site, and if you have any questions, please feel free to ask as i am always available to help with any project you may have.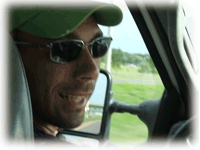 We employ up to 4 crew members depending on the job. One master sprayman, and three helpers. Each crew member is assigned a specific task to ensure quality and perfection. All crew members are well trained and highly qualified so each job will look its best when completed.
For questions and services please call or email at:

©2008-2013 Ari's Drywall Spraying, Inc.